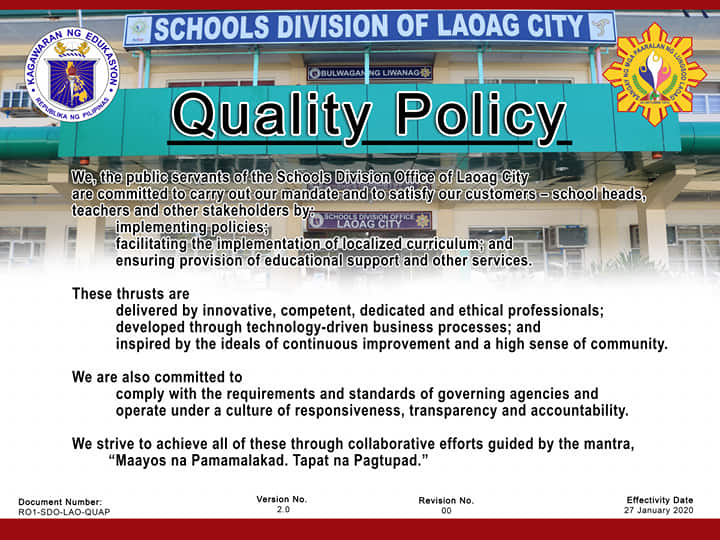 The Schools Division of Laoag City is one among the fourteen (14) schools divisions in Region I. It was separated from the Division of Ilocos Norte on October 3, 1974 by virtue of the Laoag City Charter. The office was then located in Barangay 14, along Nolasco Street, right at the heart of the city. The Division Office was later on transferred to its present location at P. Gomez St. Brgy. 23 San Matias, Laoag City. It was a product of economic and commercial expansion of the City of Laoag.
It has thirty-nine (39) public schools, twenty six (26) private schools and one (1) state university that are operating under the supervision of the division. There are fifty-five (55) schools offering elementary, eighteen (18) deliver Junior High School and nineteen (19) Senior High School education.
The Schools Division of Laoag City is composed of three functional divisions: the Office of the Schools Division Superintendent (OSDS), Curriculum Implementation Division (CID) and School Governance and Operations Division (SGOD). It has 87 personnel who are holding permanent positions.
The OSDS is consists of the Offices of the SDS Proper, Office of the Assistant SDS, Administrative Services namely Finance Services which is composed of the Budget and Accounting Sections and the IT Services. CID comprises Learning Resource Management Section, Instructional Management Section and District Instructional Supervision. SGOD is composed of School Management Monitoring and Evaluation Section, Social Mobilization and Networking, Planning and Research Section, Human Resource Development Section, Education Facilities Section and School Health Section.
The Schools Division of Laoag City is the first 9001:2015 International Organizations for Standardization (ISO) certified in the DepEd Region I. It was registered on March 11, 2018 with Certificate Number AJA18-0102. SDO Laoag City's adherence to international standards requires customer satisfaction through effective and efficient application of its system and processes as well as continuously upgrading its services. It is committed to continuously provide world-class quality service guided by the mantra "Maayos na Pamamalakad. Tapat na Pagtupad."
The Schools Division of Laoag City is committed to achieve the Philippine Development Plan (PDP) targets for Basic Education as planned in the 10-point agenda of the department. For the next six years, the Division envisions to achieving excellence and continuously improving its services to attain universal access and participation in basic education, quality basic education for all and efficient and effective governance.